The Roman artist Pamela Ranya draws her inspiration from an interior research process, placing it as the maximum of her existence. She attended the art institute and then specialized in the Pantheon multimedia academy in Rome, in advertising graphics and web design. Lover of the oriental world, she deepens in artistic and professional form one of her greatest passions, oriental dance. Dance, teach and finally create a boutique of handmade oriental costumes. From here her creativity never stops, in fact several art exhibitions follow one after the other, inspired by the growth of her "self". A common feature of her installations and paintings are the use of mainly recycled materials that combine with acrylic, mixed paints, creations of faces and hands in plaster and clay. It is precisely through the union of sculpture and recycled materials that the artist finds her maximum form of expression. It was a strange "encounter" and the myth and the story take shape through the artist's emotions in a three-dimensional plane on a series of 40 x 40 canvases. Each emotion gives birth to a character that is linked to the number, the color, the light and symbols. Vintage style, elegance, alchemy and symbolism mix with a cybernetic, gothic and futuristic world giving life to the unique identity of these works, presented in the first exhibition in March 2016 entitled "the boy".
After her first solo show in 2015 at the P&G in via Margutta in Rome, in March 2016 she presented the series "The boy" 26 sculptures of faces on canvas portraying historical characters, gods and fantasy. Inspired by a tattoo artist, at a stroke of lightning and a flash of genius she begins the collection by bringing it on several Tattoo Conventions: a world in which she will have great success also collaborating in the realization of the contest prizes during the days of the event. Faces of celebrity and fantasy, Baroque sculptures combined with recycled materials become real cyborgs, a perfect graft that has given birth to a new style. Some works represent historical figures linked to ancient texts, like Christ, the vision of Ezekiel, the guardians of Shamballa, and Agharti (theory of the hollow earth, also reported by the French intellectual René Guenon). Raw materials undergo a transformation changing their nature, so as to take on a new and precious aspect. In collaboration since June 2021 with House-Gallery in the historic center of Teano (CE).
In recent years the artist has also expressed herself in other forms such as photography, putting emotions and awareness first in a self-observation also expressed in digital and video art. In a short time the artist evolved in the technique and dedicated her greatest passion, the research: from ancient writings to the testimonies of ancient civilizations, drawing maximum inspiration, increasingly fascinating and surprising faces and busts take shape that refer to scenarios of ancient memory and to a primordial and futurist world.
(READ..)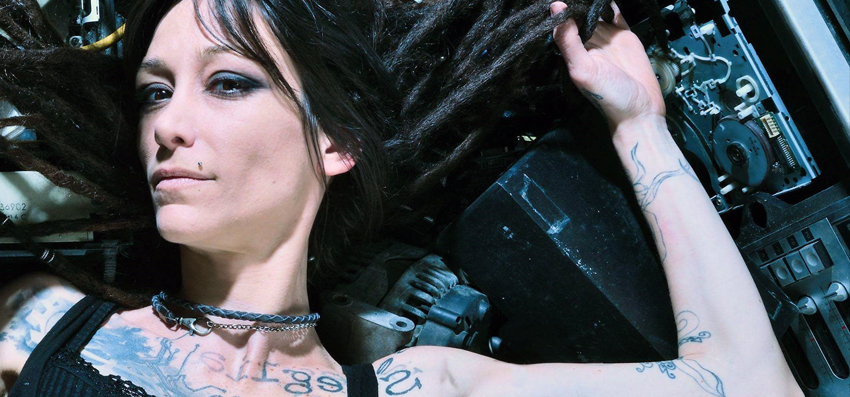 Personale presso la P&G di via Margutta a Roma 2015
Personale presso il Granarone a Calcata 2016
In mostra presso "The Other Side of the Ink. Female Artist Tattoo Convention" Roma 2016
In mostra presso "International Tattoo Expo" Roma 2016
In mostra presso "East Coast Tattoo Convention" Pescara 2016
In mostra presso "Sanremo Tattoo Convention" 2016
In mostra presso "Summer Tattoo Festival" Senigallia 2016
In mostra presso "The Other Side of the Ink. Female Artist Tattoo Convention" Roma 2017
In mostra presso "International Tattoo Expo" Roma 2017
In mostra presso "East Coast Tattoo Convention" Pescara 2017
In mostra presso "Tattoo Show" La Spezia 2017
In mostra presso "Nero Art Gallery" Pescara 2017
In mostra presso "Tattoo Show" La Spezia 2018
In collaborazione con "House-Gallery" 2021